Table of contents: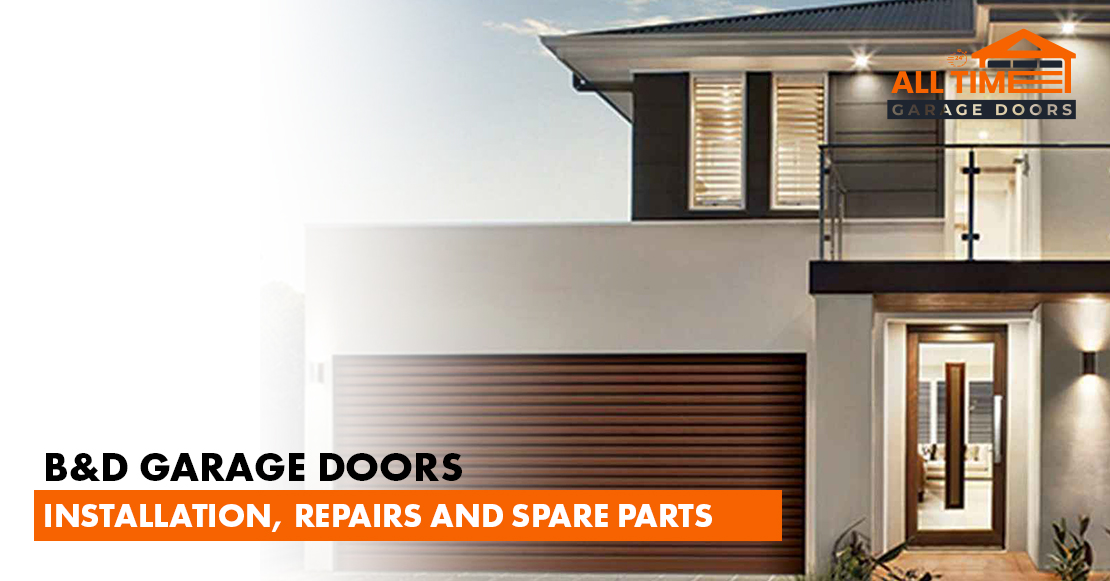 B&D Garage Doors Provider in Perth
For over 60 years, B&D roller doors have been industry leaders in the conventional Australian roller door market. Tough, smart, and reliable as well as a reputation for delivering the best product to every customer, it's no surprise that B&D doors are consistently among the most favoured types of garage door in the residential areas of Perth. Plus, they offer numerous other benefits like a 10-year warranty to back up their products, a wide range of trendy "Colourbond" colours and high-quality safety measures like its lock and shut feature.
We at All Time Garage Doors are very proud to be a Perth garage door company that is able to help you with the installation, maintenance and spare parts replacement of your BnD doors. As we have over a decade of combined experience in a new residential garage door installation industry, we are well equipped to handle any issues you may have. So, don't hesitate to give us a call for free garage door advice and no-obligation quotes.
Types of BnD Doors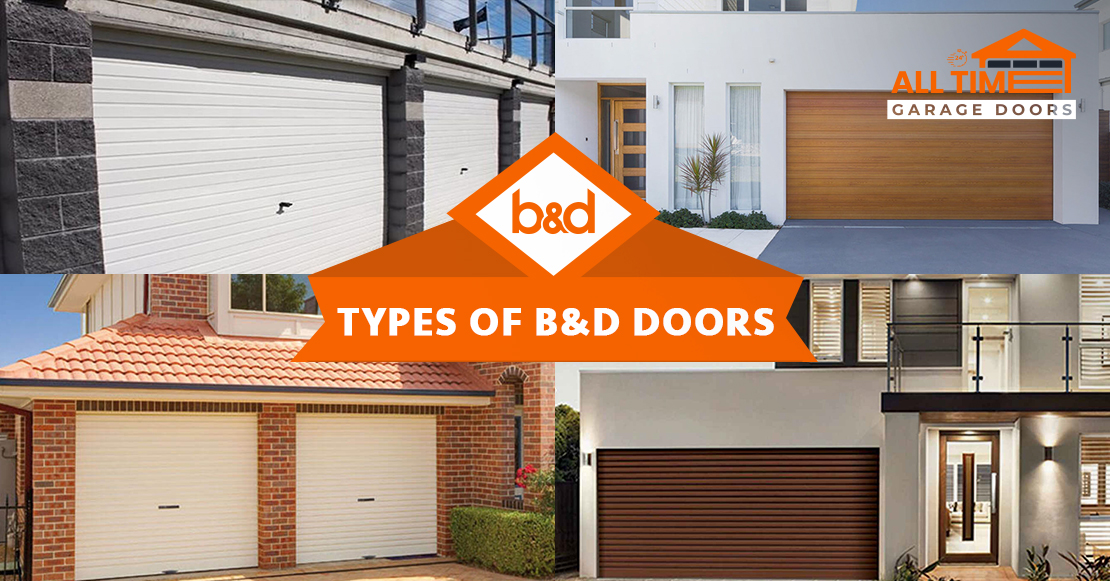 There are several types of B&D garage doors currently available on the market but only two types are commonly used in Perth residential properties.
1. B&D Roll-A-Door
This is probably the most popular of the different B&D roller doors. With strength, durability, quiet operation and enhanced security as its selling points, many homeowners in Perth made this their garage door of choice. Not to mention that a 7-year part and labour warranty is also provided. However, it still needs regular servicing to make it run smoothly all the time, opt-in our B&D roller door maintenance for the best of services.
2. B&D Sectional Garage Doors
Also commonly known as panel lift doors, this option is made from several rigid panels that move along the garage ceiling when the door opens which sets the standard for strong, safe and reliable operation year after year. Additionally, these doors come in a range of colour and design options to suit both modern and traditional homes. A 3-year part and labour warranty is also provided.
Please note, to install a new garage door, accurate measurements are needed to identify your unique specifications. As such, you will need to arrange a free measure check before we can quote you the exact price and advise you of the best BnD door options for you.
B&D Doors Price List
B&D Doors comes with high-quality products and affordable pricing for residential installation:
B&D roller door price starting from $2000
B&D sectional door price starting from $3000
Feel free to contact us for more info about the B&D doors price list and your option.
B&D Garage Door Parts Replacement
At All Time Garage Doors, we have stocks of a wide variety of B&D Garage Door spare parts for every type of BnD Doors. From the hinge, wheel, cables, motors to the springs and many more are well-stocked and ready to replace your old or broken garage door parts. Additionally, our team of garage door repairmen is well experienced in replacing any B&D garage door parts so that your garage doors are in capable hands.
Below is the list of B&D Roller Door Parts replacements that we provide:
B&D Panelmasta Steel Hinge
B&D Drive Gear & Worm To Suit
B&D Tilt-A-Door Tilt Door Wheel Replacement Kit
B&D Plastic Hinge Link
B&D CAD4 Single Sprocket Kit
B&D Sectional Cable Pair
B&D Smart Phone Add-On Transceiver Kit
B&D Cable Drum
B&D Overhead Motor Chain Breaker
Many more
Reach us directly for detailed info on BnD Doors Spare Parts Replacement.
The Sophisticated B&D Garage Door Remote and Automatic Openers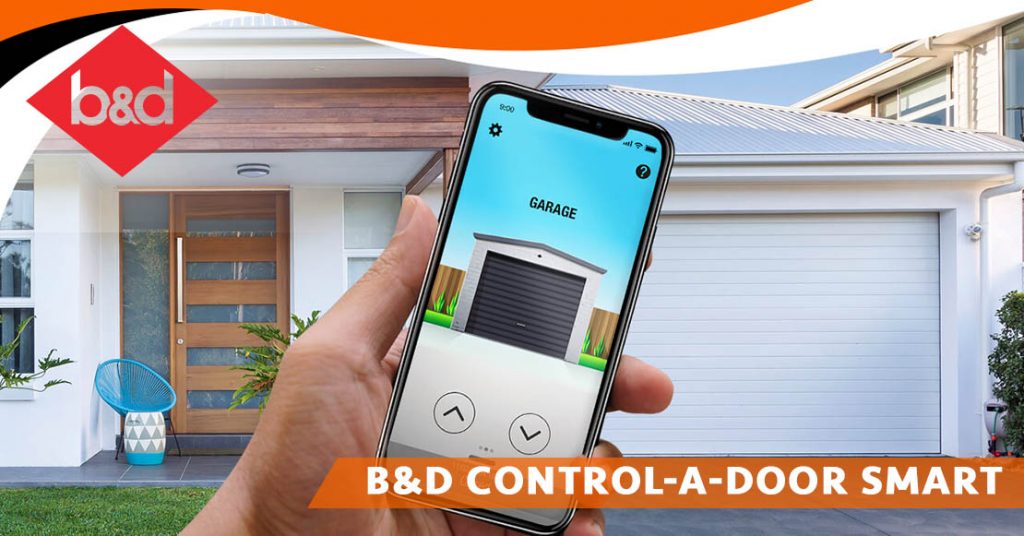 Not only is their line of doors well-built and good looking but also their garage door openers and remotes feature a sophisticated design that will appeal to many.
Called Control-A-Door Smart, it provides an unrivalled level of safety and security in the palm of your hand using a Smart Phone Control. This way, you can rest easy knowing that you can monitor and operate your garage door from anywhere with just a tap on your smartphone. Additionally, if you purchase a Control-A-Door Smart motor with a genuine Sectional Garage Door or Roll-A-Door and register online, you will receive a complete 10-year warranty from B&D Doors.
B&D Colourbond Garage Doors
Aesthetics are part of what makes BnD Doors so popular among homeowners in Perth, as they provide a wide range of colours to choose from. You can mix and match the colour of the doors so that they can fit with the house theme and design seamlessly. Here's the list of available B&D Colourbond Garage Doors.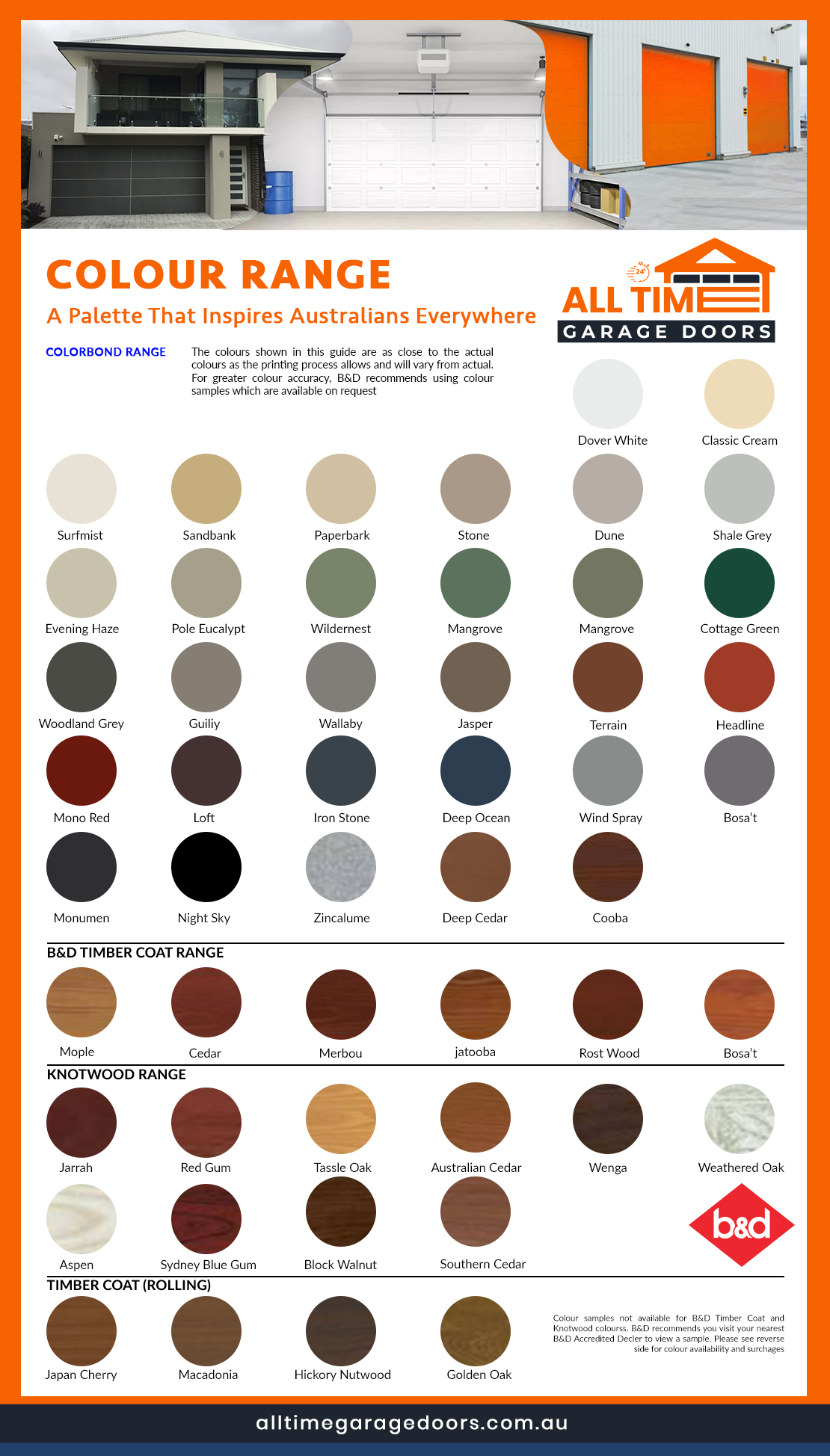 B&D Roller Door Maintenance on 24/7
Like many other heavy types of machinery, B&D roller doors need to be subject to regular maintenance checks in order to ensure the doors are always in prime condition. Therefore, our professional garage door services team are always ready 24/7 to conduct B&D roller door maintenance at your place. Our B&D roller door maintenance starts from as low as $88, we maintain a great value service. For more detail of our B&D roller door maintenance, call us for free garage door advice and a no-obligation quote now.