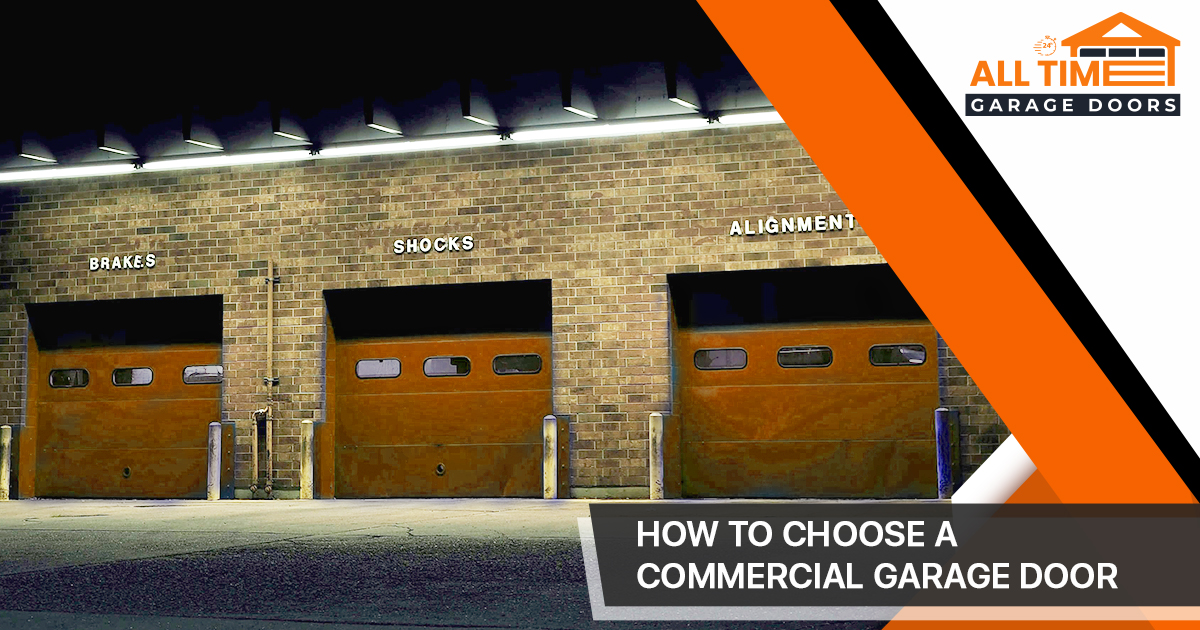 You can find industrial garage doors in a variety of styles, including roller doors and roller shutters. To serve their full purpose, commercial garage doors must possess certain qualities or you are going to need regular visits from the garage door repairman.
Residential garage doors in Perth are used only for smaller spaces and are not used as often as commercial garage doors. Additionally, commercial garage doors must be easily accessible by many people. You must also consider security requirements and smooth operation when choosing a garage door for your commercial space.
We've listed a few features you should look for in industrial garage doors here at All Time Garage Doors so you know exactly what you're looking for. Using these tips, you will be able to select a garage door that meets your business needs perfectly while being as cost-effective as possible.
Functionality and Practicality Are Crucial
The garage door you choose for your business must suit your property and the garage door repairman team at All Time Garage Doors can help you find or customise the right solution for your commercial or industrial building.
A heavy-duty roller garage door would be a perfect choice if you have an industrial setup. It will be important to have garage doors that can withstand daily repeated use, especially if there is a lot of traffic coming and going from the commercial garage.
The garage roller doors used in commercial buildings have been specially designed to undergo multiple cycles in a day and up to 20,000 in a lifetime. It is possible to special order roller doors for car parks with a high open/close rate.
What Size Garage Door Will My Commercial Property Require?
The size of the garage will also determine the size of the door. There are some types of garage doors that cannot be customised for very large garage entrances. A sectional garage door or roller door can be made to fit a larger entrance. However, if the space is smaller and there is very little back room, a roller door is a better option because it opens vertically and rolls into a barrel at the top.
Fire doors are a type of roller garage door that should be considered for commercial garage doors for schools, hospitals, and hotels. Also available in a variety of sizes, fire doors protect properties from fires and smoke.
What Type of Motor Should You Choose for Your Garage Door?
The type of motor determines whether your commercial garage door is manually operated or automatically operated. How often you need to open and close your garage door will determine the need for a motorised door.
Heavy-duty motors will be needed for industrial doors that must be opened several times per day, not only because they're faster but because they can handle the frequent opening. In general, the heavier the door, the larger the motor required. For doors that aren't opened so frequently, low-powered motors are available and are expertly installed by our garage door repairman.
Commercial Garage Door Security Elements
A commercial garage door must have security as a fundamental feature. Whether a business is large or small, all entrances offer potential entry points for thieves, which is why proper security is crucial for commercial properties at all times.
It is important that you select an industrial garage door that is highly durable, made of strong materials that cannot be easily damaged, and that has a locking system that cannot be picked or hacked.
Large warehouses or factories needing tough security combined with easy functioning are the perfect places for industrial roller shutters.
Insulation and Weather Sealing Are Important Factors
When it comes to thermal efficiency and security, insulated commercial garage doors are the best solution. It can also cause energy losses and heat gain since it is the biggest opening in your business.
In addition to reducing the impact of extreme weather conditions, insulation and weather seals can help regulate the temperature inside warehouses and factories.
With All Time Garage Doors, get the most value for your new commercial roller doors. For industrial roller shutters in Perth, we work with the most reliable and popular manufacturers including B&D Garage Doors, Steel-Line Garage Doors, Gliderol Doors, Centurion Garage Doors, Merlin Garage Doors and many more.
Commercial roller doors can be installed in no time in Perth by our highly-trained team at a cost-effective price. Give us a call on 0467 051 890 to learn more about installations, customisation and garage door service cost.