Table of contents: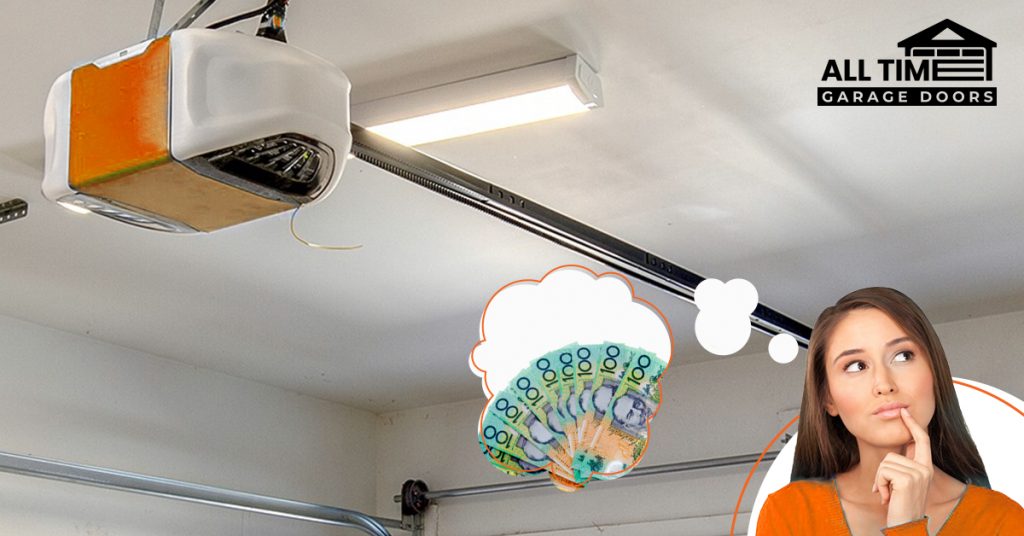 Garage Door Opener Replacement in Perth
If your garage door opener is having an issue right now, this question is probably the first one that comes to mind. Whether or not the process is expensive depends on factors like the garage door opener brand or the general quality but regardless, the replacement must be done because the longer you ignore the garage door motor issues, the more these issues will inconvenience your daily activities. However, at All Time Garage Doors, we guarantee that you will receive an affordable and high-quality garage door motor from only the most reputable brands on the Australian market.
Click the button below to talk to our professional garage door services team and understand the choices you have regarding garage door motor replacement.
How long is the lifespan of a garage door opener?
In general, with proper care and regular garage door maintenance in Perth, the lifespan of a garage door opener should be around 15-30 years. However, many factors can result in a shorter lifespan. If you've noticed warning signs like a funny sound or the garage door opener suddenly not working properly, you should address these quickly or the lifespan could be reduced further. Our garage door servicing cost starting from $88 which is quite a bargain.
Even if yours still appears to be working great, there are plenty of reasons to consider replacing it with the latest models, because they may offer improved safety, security, and convenience.
Benefits of replacing a garage door motor
Replacing an old or broken garage door motor will give you many benefits from convenience, time-saving capabilities and cost-efficiency. Here's the list of how replacing a garage door motor can benefit you:
1. Security and protection
By getting a new garage door motor, you'll be able to better prevent a garage door accident because heavy garage doors can cause severe injuries to people if their old motor is broken.
2. Less noise
Overtime the garage door motor will begin to produce a disturbing sound which is one of the signs of a motor in need of repair or replacement. This can be a big source of irritation every time the garage door opens and closes. Therefore, replacing the garage door spare parts Perth or garage door motor with a newer model can help allay the issue and give you more peace at home.
3. Long lifespan
Replacing your garage door motor with a new one means you will significantly reduce the amount of maintenance you have to perform in the future. Every new model of garage door motor comes with a long lifespan ranging from 10-15 years.
For more info about the garage door motor replacement, you can reach our team below.
Does garage door motor replacement cost expensive?
No, as mentioned above an automatic garage door opener lifespan could operate until 10-15 years, therefore you are investing a convenient way of life. At All Time Garage Doors, the cost to replace garage door opener is among the most affordable ones you can find in Perth, the estimation will be starting from $260.
However, the automatic garage door motor opener prices depend on many factors such as the garage door opener brands because each brand has its own specification. Our reputation for the great value of automatic garage door motor opener prices is a testament to our quality services, and that's not to mention the fact that we are available 24/7 and ready to roll at any time makes us the best choice to replace your garage door motor.
Why choose All Time Garage Doors to replace your garage door motor?
As the reliable Perth garage door company, we can fix any garage door motor issue and install a brand new garage door opener instantly choices from a variety of top motor producers with the top-selling and highest-quality motors brands in the market including Merlin, Chamberlain, B&D, Gliderol, Superlift and Automatic Technology Australia. Not to mention that our garage door motor replacement cost and garage door maintenance cost are one of the cheapest in Perth.
Additionally, don't hesitate to opt-in for our affordable residential garage doors for a new garage door installation because our range of premium garage door brands is among the best in the Australian market.
Don't prolong any garage door motor issues unnecessarily, let our experienced garage door openers Perth team help you out. We are ready 24/7/365 and will fix your issue in no time. Call or enquire us now at: