Your Reliable Garage Door Repair Service in Perth
When your garage door stops working it is inconvenient and also a safety hazard because your garage – and potentially your home or business – are not secure. When you need garage door repair services anywhere in Perth, the specialised team at All Time Garage Doors are available for all of your garage door servicing, maintenance, repairs and replacement. We carry a wide range of garage door parts and components in our mobile vans and if we don't have it on hand, we can source it rapidly.
All Time Garage Doors is available for emergency garage door repairs anywhere in Perth and the surrounding regions no matter what time of the day or night it is. We want you to be safe and have a reliable and functioning garage door at all time. Our experienced team know all about garage door repairs Perth and can guarantee quick and effective solutions for each garage door issue you may be facing. Additionally, they can be called anytime, any day so they can help you at the most inconvenient times. Call us now for professional advice and a free, no-obligation quote.
Type of roller door repairs in Perth
With over a decade of combined experience, our team of experts in roller door repairs Perth have repaired many kinds of garage door issue, some of the services we provide are:
Garage door panel repairs
Sectional door repairs
Garage door motor repairs
Remote control repairs
Broken garage door springs replacement
Cable replacement
Garage door parts replacement
If your current issue is not listed above don't worry, there's a good chance we can still help. You can always reach out to our customer team directly and explain your problem in detail and then our team of roller door repairs Perth experts will go to your place straight away.
24/7 Garage Door Panel Repairs and Replacement
The most common issues facing garage door panels are dents and track unalignment, both of which need quick and proper repairs. Depending on the size of the dent garage, the solution could be quick repairs or complete replacement of the door panel with a new one. If the latter situation is necessary, we will provide the part, so you won't need to spend time looking for it.
If your garage door panel is off the tracks, our team of experts in garage door repairs Perth can fix it and get it realigned without harming any other parts. All this work should only be done by a professional, therefore, reach out to our team of experts for garage door panel repairs now.
24/7 Garage Door Opener Repairs and Replacement
A garage door opener, also known as a garage door motor, is a motorised mechanism that initiates the process of opening and closing the garage doors, most often controlled by a remote or a switch on the garage wall. As one of the most vital garage door parts, when the garage door opener malfunctions due to workload or age, it needs to be urgently fixed.
A common symptom that indicates garage door motor issues is general unresponsiveness. Even though you may have pushed the button on the remote or the wall switch, you may notice there's no sign of movement in the garage door motor box. During these situations, our team of experts in will identify the issue and complete any necessary repairs so that the garage door motor will work as usual.
However, in some cases, a garage door opener replacement might be necessary to reoptimize the functionality. The average lifespan is 10 to 15 years so if your motor is around this age you may be looking at needing a new one. Here are some symptoms that indicate an aging motor:
Slow-moving door while opening and closing
Loud and unusual garage door motor noises
Garage door opener starts to vibrate hard
Our team of skilled garage door repairman are ready 24/7 to get your door working optimally. You can always opt for our free consultation first before deciding to use our services, contact us now.
Garage Door Spare Parts Replacement
Whether due to age or damage, broken garage door parts need to be replaced at some point. We provide high-quality spare parts from renowned brands that are prominent in the Australian market such as Merlin, B&D Doors, Gliderol, Superlift and many more.
Here are some of the garage door spare parts that we currently have in stock:
Garage door opener
Garage door springs
Garage door torsion tube
Garage door drums
Garage door cables
Garage door tracks and rollers
Garage door brackets and hinges
Garage door weatherstripping seal
Garage door safety sensor
Garage door emergency cord
For detailed info about the parts, you can check our garage door parts page. If you can't find the garage door part that you need, give us a call as there is a good chance that we have the part that you are looking for.
FAQs about our roller door repairs Perth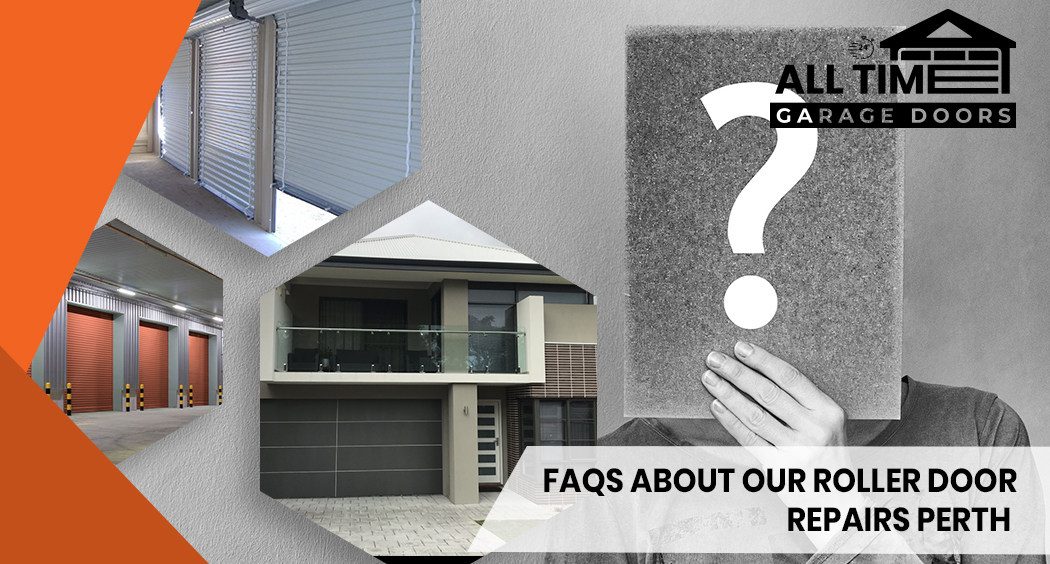 1. What's the common garage door issue?
Due to a lack of regular servicing, many garage door parts are frequently at risk of malfunction. Broken/snapped garage door springs are the most common problem followed by the door panel falling off the tracks. If either of these issues have happened to you, contact emergency garage door repairs Perth ASAP.
2. How to fix the incorrect garage door alignment?
The door should well-aligned to work properly, however, if the alignment isn't correct, there's a high chance that the door panels will be popping out resulting large dents and the panels falling off the tracks. Let our team of garage door repairman fix it for you, please call us.
3. Can you repair the weatherstripping seal?
Yes, we can replace the weatherstripping seal with a new one and we do so frequently because it is meant to be replaced at least twice a year. For your convenience, we have the part and ready to replace your old one.
4. Is DIY roller door repairs dangerous?
Yes, roller door repairs are dangerous for anyone that is not trained. Even for a trained and well-experienced technician, roller door repairs can still pose a threat to our safety. If it is done incorrectly, people can be seriously injured. As such, leave the work to the professionals and keep you and your family safe.
5. What should you do with a garage door that had been hit by a car?
An accident could happen any time and we fully understand this. These accidents usually heavily damage the door and can even cause a collapse. The first thing you need to do is to make sure you are safe and then call us for immediate support to repair the broken garage door.
6. Are you available to work on the weekend?
Our motto is to be available 24/7 anytime and any day. Therefore, working on the weekend is not a problem. Feel free to call us for free advice and a no-obligation quote before deciding to go with our services.
7. How much our garage door repairs cost?
Depending at the door's issues and condition, the cost of garage door repairs may vary. However, we guarantee that our garage door repairs cost is among the cheapest and the best value you can find in Perth. Additionally, you can always opt for free advice and a no-obligation quote first before deciding to hire our services. Contact us now.
Garage Door Repairs Perth Northern and Southern Suburbs
At All Time Garage Doors, our area of service covers all of the Perth Metro and its suburbs from the Northern area; Joondalup, Hillarys, Landsdale, Marangaroo and more; to the Southern area; Armadale, Fremantle, Mandurah, Rockingham and more. Therefore, don't hesitate to reach us if you noticed that your garage door in need of repair because we are ready 24/7 and can go swiftly on our van, not to mention our repairment cost, is among the lowest of other Perth garage door companies.
Garage door repairs near me – All Time Garage Doors!
We service the entire Perth metropolitan area and the surrounding suburbs. So, if you are a resident or a business owner in these areas don't hesitate to contact us for any time you need garage door repairs Perth. Don't worry, we won't charge you for your phone call as we offer free advice and no-obligation quotes for your convenience before deciding to hire our services. Contact us now and let our experienced garage door repairman fix your garage door issues in no time.